LSM Metal Ace Sdn Bhd
Lot vvv7238, Jalan Saleng,
81400 Senai,
Johor, Malaysia.

07-598 3888, 07-598 9111

07-598 6222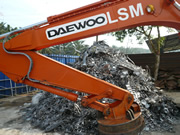 Welcome to LSM Metal Ace Sdn Bhd
Scrap is Our Business, We specialized in Scrap Collections.

With an emphasis on innovation, LSM provides unique and economical solutions to the challenges faced in today's scrap recycling environment.

Our customized products help companies reduce expenses by upgrading their production scrap into reusable material.
We seamlessly integrate our systems into our clients' existing equipment.